Bicycle Tours in Scotland are very popular with overseas visitors. It's an ideal way to explore the country, whether it's Island hopping or touring the beautiful countryside.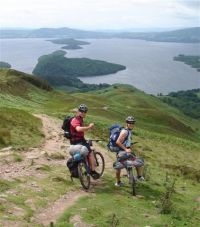 Travel the testing winding coastlines or experience the inland tracks, taking in the scenic views and wildlife along the way. Challenging, yes of course, but deeply satisfying. From the higher ground the views over the lochs are stunning. We have a package to whet your appetite, whatever your age, or cycling experience.
Cycling in Scotland is one of the best ways to enjoy the peace and tranquillity of the countryside and the quiet roads, with a good choice of routes and off road tracks to explore. A number of long-distance routes have been established over the last few years with specially built paths and quieter back roads to enhance the experience.
These tours are a dream for lovers of the great outdoors, a chance to enjoy the wide open spaces, stunning scenery and good clean fresh air, where you will find routes and trails to suit all abilities. The Highlands of Scotland are a paradise for cyclists, beginners or experienced, with roads that are largely traffic free and routes that range from glorious coastal paths to gruelling mountain ascents. And the Scottish Borders offers some nice leisurely routes, river tracks, gentle hills, and good signposting and linkage on the way.
Our bicycle tours often combine visiting numerous tourist attractions of an area with cycling through peaceful countryside and coastline between selected accommodation in villages and small towns. Tours are available for groups of 1-99, and 7-8 days duration.
Popular Bicycle Tours in Scotland
Southern Upland Traverse
An epic adventure across Scotland that links the man made trails that have made Scotland a 'Global Superstar' with some unsurpassed wild riding.
Scotland Cycling Holiday
Our cycling holiday in Scotland takes you through the marvellous regions of Perthshire, Angus and the Kingdom of Fife, staying in 3 and 4 star hotels.
West Highland Express
An amazing trip through the Highlands of Scotland, from Glasgow to Inverness. See if you can spot the monster in Loch Ness!
Scotland Cycling Through Glorious Galloway
Explore our cycling holiday in Scotland in the lovely region of Dumfries and Galloway, cycling inland or following the picturesque Solway Coast.
The Bonnie Galloway Tour
Galloway encapsulates all Scotland offers. Hills, glens, countryside and coast with 3 National scenic Areas. You cycle on signposted quiet roads.
7 Stanes Dirty Weekend
These bicycle tours are over 2 action packed days on Scotlands World Class trails – come and see why we've been voted 'The Global superstar'
View All Bicycle Tour Packages Here – Order FREE Travel Brochure!
For residents of Scotland, the Scotland Cycling Events page should be helpful, with dates and links to some of our main cycling events. And, if you don't own a bicycle, but fancy cycling for the exercise, then Hiring a Bicycle could be your cheapest option.
More Outdoor Activities :
See the Scotland Travel Information page for all the information you need for travelling to and within Scotland. Helpful advice on passports and visas, currency, weather, holiday extras, useful travel links and more.