Scotland History Tours are popular with visitors from all over the world. They are designed to deliver a unique taste of Scotland, whatever the reason for your visit.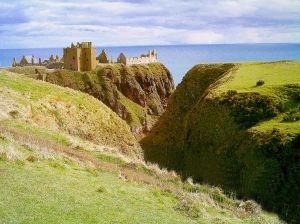 You will feel the romance of Scotland, lose yourself in the magnificent scenery, follow in the footsteps of past Monarchs, and maybe even trace your ancestors.
These tours concentrate not only on the history, but also on the folklore and tales associated with our rich heritage.
With stunning scenery, architecture, castles galore and world famous golf courses, not only will you find what you are looking for, you will experience good hospitality, and you will want to come back.
Scotland's struggle to exist as a separate country ceased when Queen Anne signed the Act of Union between England and Scotland in 1707. From the 12th century until the Union, the battles were frequent, fierce and bloody, and many famous and infamous Scottish characters had found their way into the country's history books.
But now you can have the experience of a lifetime, retracing some very famous steps, discovering our culture and traditions, and soaking up the unique atmosphere with one of our Scotland History tours.
You can request a free brochure for any of the tours on offer.
2 Days Skye & Highlands Tour
Visit the fishing town of Ullapool, discover the history on the banks of Loch Ness. July – September
3 Days Skye & Highlands Tour
A perfect long weekend discovering the secrets of Skye, Glencoe and mysterious Loch Ness! Jan – Dec
4 Days Skye & Highlands Tour
Tour the beautiful Scottish Highlands and Islands, with moody mountains and sandy beaches. April – Sept
6 Days Skye & Hebridean Explorer
Get an "edge of the world" feeling on this tour with the rugged mountains and remote beaches! July – Sept
4 Days Oban, Skye & Highlands Tour
You will remember this trip for a long time to come. See Glencoe, Skye, Loch Ness, and Oban. April – June
6 Days Monster Castle Tour
Fancy a spot of Monster hunting at eerie Loch Ness. See also Skye, Oban, and St Andrews. October – April
7 Days Orkney & Skye Tour
Taking your breath away as far north as you can go, with a full day on Isle of Skye, and Orkney. April – Oct
9 Days Island Hopper Tour
Experience the culture over a variety of terrain. See a lot of Scotland in just over a week. June – Sept
Scotland Winter Hogmanay Tour
New Years Hogmanay Celebration, New Years Gala Dinner Dance and festivities, over 10 days. January
Highlands and Islands of Scotland
Stray off the beaten track, to stay in castles, dine in gourmet restaurants, see the Real Scotland. Apr – Oct
View All History Vacation Packages Here – Order FREE Travel Brochure!
More Tours :
Cultural Tours Scotland
Culture Tours of Scotland will take you on a magical journey, with breathtaking sights, and indulgence. Sample the whisky and haggis.
Spiritual Tours Scotland
In today's fast moving lifestyle, we sometimes feel the need for peace of the body and mind. This is known as 'Spiritualism' or 'Meditation'.
Scotland Golf Tours
If you are in need of a well earned break and have an interest in golf, then you can do no better than sample one of our Scotland Golf Tours.
See the Scotland Travel Information page for all the information you need for travelling to and within Scotland. Helpful advice on passports and visas, currency, weather, holiday extras, useful travel links and more.