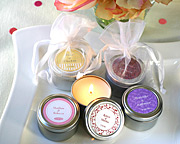 Just in time for your big day, here's a spectacular range of select wedding favors and wedding shower favors, chosen for their unique designs and unforgettable style!
Put your feet up and browse this impressive collection of memorable favors, as well as bridesmaids' gifts, gifts for groomsmen and other wedding accessories. We're sure you'll find the perfect favor to fit in with your personality, your theme and your décor.
Wedding Favor Coupons
On a tight budget? You can use these coupon codes at MyWeddingFavors.com to save money on your order.

» SAVE5 – This will give you 5% off of your order.
» SAVE10 – This will give you 10% off any order over $150.
» TAKE25 – This will give you $25 off any order over $200.
» FREESHIP175 – Free shipping on orders over $175. Valid on ground shipping only.



Start Saving >>





Favors by Season
» Fall Wedding Favors
» Winter Wedding Favors
» Spring Wedding Favors
» Summer Wedding Favors

Favors by Price
» Clearance
» Under $2.00 Favors />
» Under $3.00 Favors

Favors by Type
» Boxes, Bags and Ribbon
» Cookies and Chocolates
» Glass and Crystal Favors
» Silver Wedding Favors
» Bath and Soap Favors
» Photo Album Favors
» Personalized Mint Tins


Featured Wedding Favors
» Unique Wedding Favors
» Bridal Shower Favors
» Personalized Wedding Favors
» Elegant Wedding Favors
» Candle Wedding Favors
» Place Card Holders
» Practical Wedding Favors

Favors by Theme
» Beach Wedding Favors
» Wine Wedding Favors
» Asian Wedding Favors
» Las Vegas Wedding Favors
» Fairy Tale Wedding Favors
» Bridal Shower Favors
» Coffee & Tea Wedding Favors
» Garden Wedding Favors
» Golf Wedding Favors

Most Popular Wedding Favors


Forever Photo Glass Coasters

"Apple of My Eye" Mini-Candle in
Gift Box with Ribbon and Tag

Wedding Accessories
Bridesmaid Gifts | Groomsmen Gifts | Just For Fun! | Guest Book & Pen Sets | Cake Accessories | Wedding Invitations> | Flower Girl Accessories | Wedding Cameras | Bridal Shoes | Unity Candles | Toasting Flutes | Save the Date | Ring Bearer Accessories





Brought to you by


Gretna Green Weddings
Gretna Green is probably the most romantic destination for weddings in Scotland. A favourite place for young lovers.
Castle Weddings
Imagine the many banquets, stately dinners and balls that have taken place in the great halls of these castles.
Traditional Scottish Wedding
After the happy couple have exchanged vows and said "I do", the traditional Scottish wedding is well underway.