The range and diversity of music in Scotland offers something for everyone, whatever your taste, and regardless of age, with rock, pop, classical or traditional Celtic music.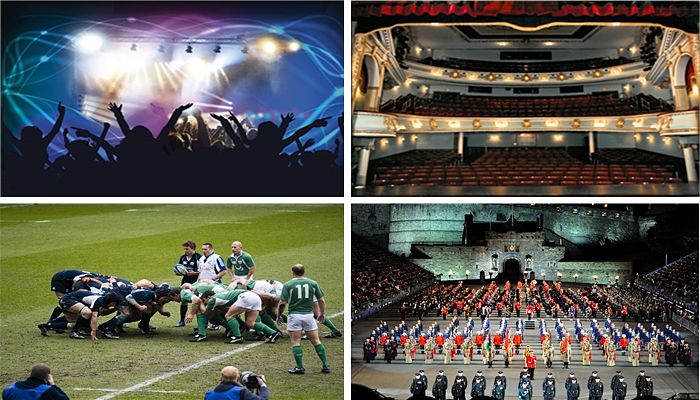 Scotland Music Concerts, Theatre, Sports And Events….
With great locations for music concerts, including the SECC, the Barrowland Ballroom, King Tuts Wah Wah Hut, (all in Glasgow) the Edinburgh Playhouse, plus some of our Scottish football grounds and the national rugby stadium, top international acts are only too happy to play in front of large Scottish crowds. And the crowds just love it!
SCOTLAND MUSIC CONCERTS: JANUARY 2020
HEAVY RAPIDS
WEATHERSTON
WAGE WAR

THE PLASTIC YOUTH
SHOWADDYWADDY
MONSTER MAGNET

CAVE TOWN
KAISER CHIEFS
CARAVAN PALACE

BRUNO MAJOR
WATERPARKS
PAUL CARRACK

Music: The above list is a small sample…View all concerts and Find Tickets Here. These concerts sell out fast. There's good news if you're a fan of music festivals. You can check out an extensive list of festivals for the year on the Scotland Music Festivals page.
Scottish theatre is also thriving, having shaken off the cobwebs of the old days when the theatre was nothing more than a music hall variety show. Good drama, comedy, ballet and musicals make a trip to the theatre a night to savour. And it can be even more enjoyable when you treat yourself with a theatre ticket and a hotel break. There are some great shows coming up, and you can find all Theatre Tickets here.
Scottish sports, although dominated by football, has some good offerings with rugby and golf. The home of golf has hosted many of the British Open Golf championships, and even when they're not on Scottish soil, many golf fanatics scramble for tickets and journey south. And devoted rugby fans flock to Murrayfield for the popular Six Nations championships : Scotland, England, Wales, Ireland, France and Italy. And the great news is, you can browse and buy tickets for many of our Scottish Sporting Events.
Major events: One of the most popular events on our calendar is the famous Edinburgh Military Tattoo, a cultural extravaganza from performers worldwide.
---

Buy Train Tickets – Search timetables and prices, and save up to 65% when you buy tickets in advance for rail travel Scotland, and the UK.

---