Scotland events highlights for August include the spectacular Edinburgh Military Tattoo, the fabulous Edinburgh Fringe Festival, and the Cowal Highland Games.
Aberdeen Youth Festival
29th Jul – 6th August 2016, Aberdeen
Showcasing the best youth talent from all over the world, the festival has all sorts of entertainment including concerts, recitals, music, dancing, theatre and massed choirs.
Merchant City Festival
30th Jul – 7th Aug 2016, Glasgow
Street arts, dance, live music, markets, fashion and design, comedy, family events, tours, heritage walks, talks, food and drink and much more.​
Edinburgh Art Festival
28th Jul – 28th August 2016, Edinburgh
Outdoor concerts on the streets and all sorts of venues, with international artistes performing in the longest-running jazz festival in the UK.
Edinburgh Military Tattoo
5th – 27th Aug 2016, Edinburgh
Spectacular event set against the backdrop of Edinburgh Castle. Hailed as one of the most spectacular shows in the world and watched by a TV audience of 100 million worldwide. Not to be missed.
Ignition Festival of Motoring
5th – 7th Aug 2016, SECC, Glasgow
Displays of classic cars, supercars, rally cars, motorcycles and more, The Top Gear Live Stunt team will inject further thrills into IGNITION as they bring excitement and flair to the live action zone.
Edinburgh Fringe Festival
5th – 29th August 2016, Edinburgh.
The world's biggest celebration of the arts. Runs for three weeks with a mix of culture and art, theatre, music and dance, exhibitions, children's shows and events.
Edinburgh International Festival
5th – 29th Aug 2016, Edinburgh.
More of the arts, with the Edinburgh International Festival offering live performances by internationally renowned artists, classical music, theatre, opera and dance.
North Berwick International Highland Games
6th August, 2016, North Berwick.
Traditional Highland Games and Highland dancing. Pipe Band Championships with over 70 bands. Concludes with a spectacular massed pipe band display.
Pedal For Parkinsons
7th August 2016, Stirling.
A 25 or 60 mile cycle challenge around historic Stirling. Have an active day out with your friends and family, while supporting a worthwhile cause, Parkinson's UK.
Edinburgh International Book Festival
13th – 29th Aug 2016, Edinburgh.
The world's biggest book festival. Meet authors from around the world. Discussions, lectures, debates and workshops.
The Cowal Highland Gathering
25th – 27th Aug 2016, Dunoon.
The world's largest Highland Games. Competitors are attracted from all over the world for dancing, piping, heavy events, athletics and shinty.
MacMillan Art Show
25th – 28th Aug 2016, Edinburgh.
The aim of the Show is to raise much-needed funds for the work of Macmillan Cancer Support.
Beyond Borders International Festival of Literature and Thought
26th – 28th August 2016, Edinburgh.
Meet an author, watch a debate, view an exhibition, walk the grounds of Traquair house, or cycle the banks of the River Tweed.
Tomintoul & Glenlivet Walking Festival
26th – 29th Aug 2016, Tomintoul.
Walking and cycling, with five events over five days.
Largs Viking Festival
27th August – 4th September 2016, Largs
A great family event celebrating the Viking heritage in Largs, notably the Battle of Largs of 1263, which was the scene of the last Viking invasion in the UK.
Virgin Money Fireworks Concert
31st Aug 2016, Edinburgh.
The Virgin Money Fireworks Concert brings Edinburgh's summer festival season to a conclusion with a spectacular fireworks display.
Free brochure for Nature & Wildlife Tours
Free brochure for Art and Artist Vacation Packages
Free brochure for Language Schools and Study Vacations
Free brochure for Castle Hotels and Castle Tours
See the Scotland Travel Information page for all the information you need for travelling to and within Scotland. helful advice on passports and visas, currency, weather, holiday extras, useful travel links and more.
Major Events in Scotland :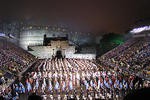 Edinburgh Military Tattoo
You'll have to book your Edinburgh Military Tattoo tickets early if you want to see this magnificent spectacle, and internationally acclaimed event, set against the backdrop of Edinburgh Castle.

Edinburgh Fringe Festival
One of the world's largest arts events, the Festival stages more than 2,000 shows in hundreds of theatres, and a lot more.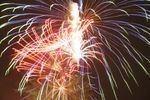 Edinburgh Hogmanay
Year after year the Hogmanay street party brings something new: Torchlight Procession, Carnival, Street Theatre and more.