A rowing boat arrived at Loch Shiel on the afternoon of 19th August 1745, carrying a determined young man preparing to fight for the Stuarts' cause, and his father's right to the thrones of both Scotland and England.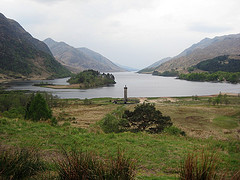 The young Prince, Charles Edward Stuart, was met there by fifty of his followers from the MacDonald Clan, in response to letters he had sent all over the Highlands, asking for support. Initial disappointment at the poor response was soon lifted when a further one hundred and fifty MacDonalds arrived.
They were then joined by around 1,000 men from the Clan Cameron who arrived on the scene, and three hundred Macdonnells, who had been held up after being involved in battle with Government troops at Spean Bridge. "Bonnie Prince Charlie" was now ready. His standard was raised on the spot where Glenfinnan Monument now stands, and the 1745 Jacobite Rising, the valiant attempt to reinstate the exiled Stuarts, was under way.
(The word 'Jacobite' is derived from the Latin 'Jacobus' meaning James)
Charles Edward was born in Rome, in 1720, grandson of King James VII of Scotland and II of England, a Catholic who was deposed by Parliament in favour of William of Orange, at a time when the Protestant religion was being adopted by many. Charles' father was "The Old Pretender" James Stuart, who had seen two previous attempts to sieze the throne end in failure, the first in 1689. Some surviving MacDonalds from that uprising would become victims of the infamous Glencoe Massacre in 1692.
Bonnie Prince Charlie was also to fail. He invaded England as far as Derby, but was forced to retreat due to lack of support from England and France. His last attempt was at the Battle of Culloden Moor on 16th April 1746, when he suffered defeat at the hands of the government forces, and he became a fugitive. While on the run, he met Flora MacDonald on the island of Benbecula, and even though her foster father commanded Government troops on the island, she agreed to help Charlie escape.
Flora smuggled him to the Isle of Skye, disguised as her maid, and from there he made his way to France. He eventually settled in Rome, now an alcoholic, and saw out his years with many failed relationships. "The Young Pretender" as he was known, died on 31st January 1788, and with him died the Stuarts' aspirations to regain the crown. Bonnie Prince Charlie could probably be described as a loveable rogue, but nonetheless he has rightly earned his place in Scottish history.
Flora was imprisoned in the Tower of London for a short time for her role in his escape, and the story goes that Charlie and Flora MacDonald had fallen in love. Following her release, her part in the escape made her a celebrity. She died in 1790, and was buried on the Isle of Skye. Legend has it that she asked to be buried wrapped in Bonnie Prince Charlie's bed sheet.
Glenfinnan Monument was erected by Alexander Macdonald in 1815, to mark the spot where Bonnie Prince Charlie had rallied his troops and raised his standard to signify the beginning of the 1745 Jacobite Rising.
Situated at Loch Shiel, about eighteen miles west of Fort William, the monument is a popular visitor attraction with its picturesque setting, surrounded by mountains and woodlands. There are cruises available on the loch from March to October, where you can access excellent cycling routes, enjoy the panoramic views and spot some of Scotlands' wildlife. The monument has a shop, a snack bar, and a visitor centre with displays, and features an audio programme about the campaign from Glenfinnan to Derby, and back to the final defeat at the Battle of Culloden Moor.
Check Opening Times & Admission Prices
More Scottish History :