The City of Inverness, known as the capital of The Highlands, welcomes you with the quiet air of a place that relishes having visitors, and offers a good quality of living.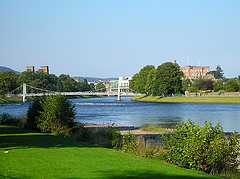 I have either passed through or made a stop in the city for a few hours on many occasions, and in 2004, I had the good fortune to spend a glorious weekend. I had lunch in a restaurant, and people at the next table were deep in conversation.
Now, I couldn't help overhearing, but I honestly don't remember what the conversation was about. What I do remember was trying to place their accents, and I couldn't, because there was none. Everywhere I went in the city it was the same story, all the locals spoke in a nice, 'soft' manner, that revealed no regional dialect, and no trace of a Scottish accent.
My weekend here was full of surprises, and it was thoroughly enjoyable.
Although the city is the commercial centre for The Highlands, it caters well for the one million tourists who visit each year. With its own airport and good road and rail links it is also easily accessible. Tourism has been steadily on the increase since city status was granted in 2001, and Inverness has everything you would expect in a major city.
With a full programme of events like the Highland Show, Highland Dancing, Pipe Bands, and the Inverness Highland Games, there's always something to see, and the nightlife is absolutely buzzing with lots of good Ceilidhs, traditional music, comedy and quiz nights dominating the local pub scene.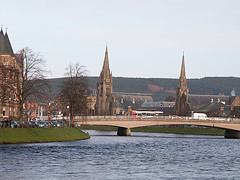 Add to that the choices for eating, from pubs, fast food takeaways and good restaurants serving traditional Scottish food, and the French, Mexican, Thai, Chinese and Indian restaurants, tea and coffee shops, it's easy to see why it's popular.
The city of Inverness has some fabulous shopping too. There's everything you would expect from a city shopping centre and also some specialist retailers offering traditional Scottish goods, including knitwear, crafts and books. In the 'Old Town' part of the city there is the Old Victorian Market, and the High Street is pedestrian only. As you walk through the city centre you can expect to be entertained with pipers and other street performers.
Eden Court Theatre in Bishop's Road has performances to cater for a wide range of cultural tastes, including music, drama and ballet, and the Royal National Mod is held in October each year for those who prefer to be entertained with Gaelic and Highland music. Gaelic is spoken by some in the city, and many of the place names and signs are in Gaelic. Another place worth visiting is the Inverness Museum and Art Gallery where you can catch up on some Highland history. There are learning zones and drawing classes held here, the gift shop, full of souvenirs, and the coffee shop.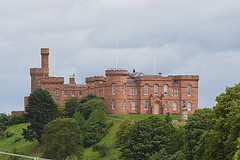 As you would expect, Inverness has a castle.
The present castle was built on the site of a much earlier fortress, but it is not open to the public as a visitor attraction. That's because it is the location of the CITY SHERIFF COURT.
Now, if whisky tours are your thing you're in for a real treat, as the city of Inverness has a few distilleries nearby offering tours. Best known is The Antiquary, about 16 miles south on the A9, one of our most famous malt whiskies. About 18 miles north is the Glen Ord Distillery. There's also the Dalmore Distillery to the west, where tours are free. Go easy on the tasting though, or you may end up in Inverness Castle.
There is much history surrounding Inverness and many famous names from the past have been here, including St Columba, Robert the Bruce and MacBeth. Not far away is Culloden Battlefield, site of the last battle on British soil in 1746, bringing the Jacobite Rebellion to an end when Bonnie Prince Charlie was defeated by Government troops.
Loch Ness needs no introduction, as this great loch has been the subject of much debate over the years, as to the existence or not, of our famous monster, 'Nessie'.
Yes, there's a lot going on in and around the city of Inverness, with Fort William and Ben Nevis nearby, making it a good base for exploring the Highlands, and it is worth visiting. Like everywhere else in Scotland, you're guaranteed a warm welcome.
Find A Hotel In Inverness. A comprehensive search facility to browse hundreds of hotels and compare prices for the best deal possible.