A Largs day trip is just perfect for relaxing, lazy days on the seafront, eating ice cream, or fish & chips. This busy little town sits in an ideal location, on the Firth of Clyde.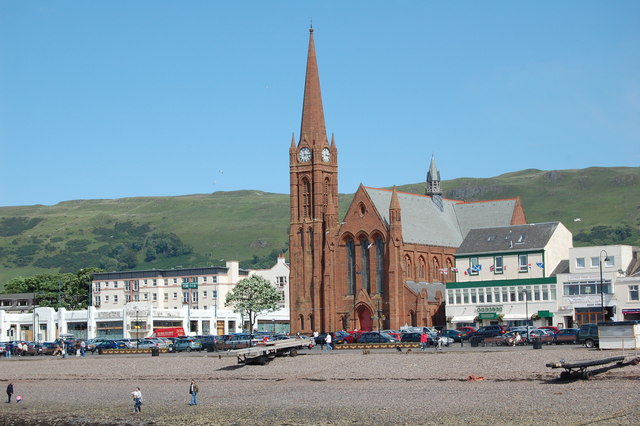 I consider myself very fortunate to be living so close to this charming town. I live just a thirty minute drive away, and this is a favourite haunt of mine when the weather is good and I have a whole day to spare.
On occasions I have taken the car ferry to Millport, another nice town,* just ten minutes across the Firth of Clyde, but on most occasions, Largs has more than enough going for it to keep me happily occupied for the whole day.
Along the front there are a good number of eating places, including The Bean & Leaf, The Green Shutter, Room, and The Bagel Basket. There are coffee shops, ice cream vendors, an award winning fish & chip shop, and hundreds of seats, and grass areas where you can sit and admire the fabulous views across to Cumbrae and Arran.
Combine this with pubs, putting greens, water sports, kiddies rides and amusement arcades to keep the children occupied, and you can see why people travel here from all over the west of Scotland, and why our English neighbours come for a holiday.
The North end of the Promenade has the award winning Vikingar, an exhibition describing the Battle of Largs, when defeat of the Vikings ended Norse sovereignty in the Western Isles. Just leaving the Southside, you can see Pencil Point, the memorial built in remembrance of the famous battle, which took place in the year 1263.
To celebrate the Scots victory, Largs has an annual Viking Festival, usually in August or September, and it attracts visitors in large numbers. Facilities in the Vikingar include a swimming pool, putting green, cinema, cafe and gift shop. By the way, the award winning fish & chip shop I mentioned earlier is called "The Viking".
Also on the Southside is the impressive Kelburn Castle and Country Centre, a great day out with lots of activities, mainly for the kids. There's the castle, adventure playground, walled garden, horse riding, marine assault course, and woodland walks.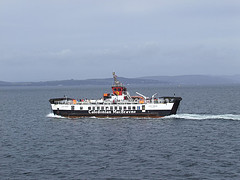 Largs is ideal for a cheap day trip, with a Marina, sailing and watersports, and three golf courses, two bowling clubs, and Inverclyde Sports Centre.
Although most Scots just go for a Largs day trip, the town is very popular as a holiday destination with visitors from other parts of the UK, and from abroad. There are plenty of good guest houses and B & Bs in the town, and it's also a good base for exploring the surrounding area, with ferries leaving for Cumbrae every 15 minutes in summer. A 10 minute crossing gets you to the Isle of Cumbrae, where buses meet the ferry for the four mile trip to Millport.
In the summer months The Waverley, the world's last sea-going paddle steamer calls in at Largs, before sailing to the islands of Arran, Rothesay and the Kyles of Bute. And with trains and buses to Glasgow every hour, and hourly buses to Ayr, Ardrossan and Irvine, it's easy to get around west and central Scotland.
If you're staying in Largs you can also have a fantastic day trip with Cumbrae Voyages, a marine adventure tour on a 12 seat rigid inflatable boat, spotting marine and wildlife as you go round the Cumbraes or Bute.
This lovely little town has always been a particular favourite of mine, and not only because I live nearby. On hot sunny days, Largs is the first place that comes to mind for a really relaxing and enjoyable day out. It literally has something for everyone, so the next time you're thinking of a day trip in Scotland you should visit Largs.
Find A Hotel In Largs. Different providers, different prices, and user reviews. Save time and money, search them all here for the best deal.
*Update* Went back to Millport in May 2014 (this was my first visit back here in a few years) and was really disappointed. The main street doesn't have much to offer, and I struggled to find a decent coffee shop. The public toilets by the bus terminal are a disgrace, so needless to say, I don't envisage returning here any time soon.