The beautiful Loch Katrine lies in the Trossachs National Park, amid some really spectacular scenery. It was the inspiration for Sir Walter Scott's peom, "Lady of the Lake" and the novel "Rob Roy".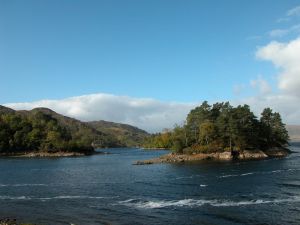 Katrine is in a lovely part of the country, very scenic and peaceful, and like the rest of the Trossachs, worth visiting for a relaxing day.
This beautiful loch is eight miles long, one mile wide and is the biggest of the Trossachs lochs. It's surrounded by mountains on all sides, and has supplied pure water to the city of Glasgow since 1859. The road up the side of the loch is private, owned by West of Scotland Water, but there is a concession to allow cyclists and walkers to use the road.
The Trossachs is one of our most popular tourist destinations, covering the area from the head of Katrine, and taking in Aberfoyle and Callander. Nearby Aberfoyle has hotels and B&Bs, local shops, bakery, small supermarkets and a petrol station to take care of all your basic needs. Bicycle hire is available at the Trossachs pier, and there is also a tearoom, restaurant, craft shop, and toilets. There is a small fee to pay for the pier car park, but it is worth it for the views you can enjoy over your cup of tea.
Probably the best way to appreciate the beautiful mountainous and country scenery is by walking or cycling the road on the north side.
There has been a steam ship here since 1843, and nowadays you can take a cruise on the passenger steamship Sir Walter Scott, launched in 1899.
Sails on the loch run daily from April to October, and if you are in the area then a sail on Her is a must.
This historic ship was built in Dumbarton, it then sailed to Loch Lomond, where it was dismantled, and then it was taken over the hills, and reassembled on Loch Katrine.
Katrine is in Clan MacGregor country, and Rob Roy MacGregor, the subject of hollywood movies, was a famous (or infamous) Scottish outlaw who was born at the head of the loch, Glen Gyle, in 1671. There is more than one translation of the name Katrine, the most common being the Gaelic "cateran" meaning "Highland Robber", and this is probably a reference to Rob Roy, who stole from the rich and gave to the poor, and who died peacefully in his bed in 1734.
There's no doubting the beauty of Loch Katrine, in fact the whole of the Trossachs will present you with spectacular scenic beauty of unspoiled landscape, and the woodland area with forest walks, picnic and play areas guarantee a great day out for the family.
See the Katrine Website for sailing timetable and tariff.
Find The Best Rates For Hotels In Scotland. A comprehensive search facility to browse thousands of hotels in hundreds of town and cities.