Melrose Abbey, now a ruin, was once considered to be one of Scotland's most beautiful buildings. It's history provides the visitor with a sense of romance.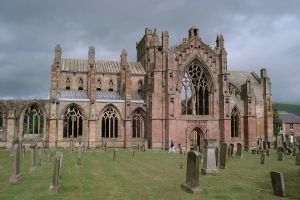 The Abbey, burial place of Robert the Bruce's heart, was founded by King David I around 1136. Construction began with one abbot and 12 monks from Rievaulx Abbey in Yorkshire.
Attacks by English Monarchs saw the church being pillaged and burned by Edward II's army in 1322, and the Abbey was set on fire in 1385 by Richard II, when many monks were killed and David II was forced back to Edinburgh. The Abbey was eventually rebuilt over a period of about 100 years, and one person instrumental in the reconstruction was King Robert the Bruce.
(When Bruce was dying he requested that his heart be taken into battle, as he was unable to go on crusade. His wish was granted and his heart now lies in an unopened lead casket in Melrose Abbey).
The final attack came in 1545 with the Earl of Hertford bombarding the site with cannon. The town of Melrose also suffered from English invasions and the Abbey came to an end with the Reformation in 1560. Following the last attack the Abbey was never properly restored, but some extensive restoration work did take place in 1918 when the abbey was gifted to the nation by the Duke of Buccleugh.
Throughout its working life Melrose Abbey was a favourite of royalty, and just prior to the Reformation it was home to around 120 monks. Today, under the care of Historic Scotland, it comprises the almost complete ruins of the Abbey Church, and the chapel features a magnificent stained glass window and a full pipe organ.
Although Melrose is mainly an agricultural market town, stunning scenery is to be found here, and visitors are enthralled with many attractions, like the Trimontium Exhibition, the starting point for a five mile walk to celebrate Roman heritage.
On the walk, from Melrose to Leaderfoot and back, you will view Roman sites and stop for tea and biscuits at Newstead Village Hall. For sport enthusiasts, the second week of April each year sees the Melrose Sevens, a seven-a-side rugby tournament which has been running since 1883. Teams come from all over the world to play here.
Melrose is one of the enchanting towns in the Scottish Borders.
Check Opening Times & Admission Prices
See the Scotland Travel Information page for all the info you need for travelling to and within Scotland. Advice on passports and visas, currency, weather, holiday extras, useful travel links and much more.
More Scottish Attractions :
Kelvingrove Art Gallery
Kelvingrove Art Gallery and Museum, with one of Europe's great civic art collections is Scotland's number 1 visitor attraction, and well loved.
Glasgow Science Centre
This science and technology museum was awarded a five star rating in the visitor attraction category by the Scottish Tourist Board, Visit Scotland.
Edinburgh Zoo
The zoo is a great family day out, with many animals to see and and much to do, with the highlight being the daily penguin parade.