If you're visiting Scotland, or if like me, you're a fair weather or occasional cyclist, then hiring a bicycle would probably be more cost effective than actually buying one.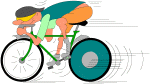 That's why I've put together this handy directory of Scotland bicycle hire. More and more people are taking to cycling around Scotland as an ideal way to see the best of the country on some of our excellent cycle tracks, and to enjoy the clean air.
And with all the fitness benefits that come with good exercise, it's easy to see why bicycle shops are booming. For regular cyclists, owning your own bicycle is probably your best option, but with some people the biggest problem is storage space. If you're short of space in the home or garage, then hiring a bicycle solves the problem.
The 'Bicycle hire capital of Scotland' has to be Millport, on the Isle of Cumbrae. It's the only town on the Island, and Cumbrae's so small that a bike ride round the Island will take you on a journey of just 10.25 miles. There are 3 cycle hire shops here offering hundreds of bicycles between them, and although they don't have websites, you'll find them when you get there, trust me. So Scotland bicycle hire has to start in Millport which can be reached from Largs with a nice 10 minute Ferry Crossing.
Scotland Bicycle Hire Shops
OUTDOOR ACTIVITIES
---

See the Scotland Travel Information page for all the information you need for travelling to and within Scotland. Get some helpful advice on passports and visas, currency, weather, holiday extras, useful travel links and more.

---