Here is some Scotland travel information with helpful advice for passports and visas, travelling to Scotland, flights and airports, and all you need to help plan your trip.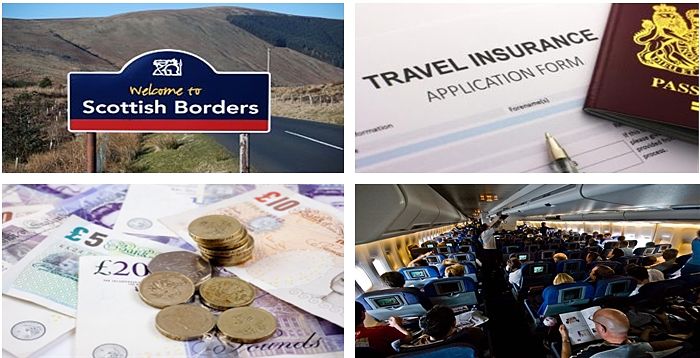 It doesn't matter where you're going, knowing what to expect can be the difference between having a good time and having a GREAT time, so let me help you prepare. If you've got this far then you're probably thinking about paying us a visit, and that's great, so maybe now is the time for those important last minute checks.
Scotland Travel Information…
Here we'll look at some of the practical information you may need, to ensure your trip is as pleasant and stress free as possible. I believe the information here will be helpful and hopefully answer any questions or concerns you may have, and I've no doubt you'll love your visit to Scotland. Just make sure you plan out your trip properly, then you can relax, unwind, and just concentrate on having a fabulous time.
PASSPORTS & VISAS: If you're travelling from outwith the UK this is the first thing you need to know about. All overseas visitors will need a passport. Europeans can stay for up to three months without the need for a visa, but for EU citizens there is no limit on the length of time you stay here. If you're from the United States, Canada, Australia or New Zealand, you can stay for up to six months. From anywhere else you will require a visa. Look at UK Tourist Office for more information. Travel within the UK (i.e. England to Scotland) check with your airline. Most just need photo ID, but check anyway.
---
TRAVELLING TO SCOTLAND: So, how exactly do you get here? Well, depending on where it is you're coming from, you may have more than one option available to you as to your method of transport. You should have a look at the Travelling To Scotland page for more detailed information on different ways to get here.
---
FLIGHTS & AIRPORTS: If you're flying and have not yet arranged your flight then it should be worth taking a look at the Search Flights page. This fantastic search facility sources hundreds of price comparisons from major airline companies to offer you the lowest possible air fares. NOTE: On your arrival at the airport you will be required to go through passport control. Edinburgh Airport or the Official BAA Glasgow Airport website will give you all the information you need for customs and baggage etc.
---
TRAVEL EXTRAS: To save some time on your arrival, you may want to arrange Car Hire in advance. Not necessary of course, but very convenient.
---
ACCOMMODATION: Scotland has accommodation choices to satisfy all tastes and budgets. You can choose from two, three, four and five star hotels, holiday rentals, holiday cottages, Scottish castles, hostels, bed & breakfasts or guesthouses. You'll find all of these options on the Scotland Accommodation page.
---
HEALTH & DISABILITY: No vaccinations are required for visiting Scotland or any part of the UK (in normal times). We have a 'no smoking' policy for indoor public places including restaurants and pubs. Hotels and guest houses can allocate dedicated rooms for smoking if they wish, although few do. We welcome visitors with disabilities, and many establishments offer good provisions. Visitors with a disability can find helpful information on the Capability Scotland website. Another site you may find helpful is Update, which is Scotland's National Disability Information Service.
---
TRAVEL INSURANCE: I believe proper insurance cover is imperative for travelling anywhere, and this has been endorsed by some of the horror stories I have read about people who have had an unfortunate accident or taken ill while abroad, and were not insured. Even basic hospital treatment can amount to thousands of pounds, so remember to read the small print on your policy. See the Travel Insurance page.
---
TRAVEL GUIDES & MAPS: If you are planning a self guided tour of the country, then a good travel map is essential. In some of the more remote parts of the country, like the Highlands for example, you could find yourself waiting a while to see someone to ask for directions. It's worth investing in a good Road Map and travel guide.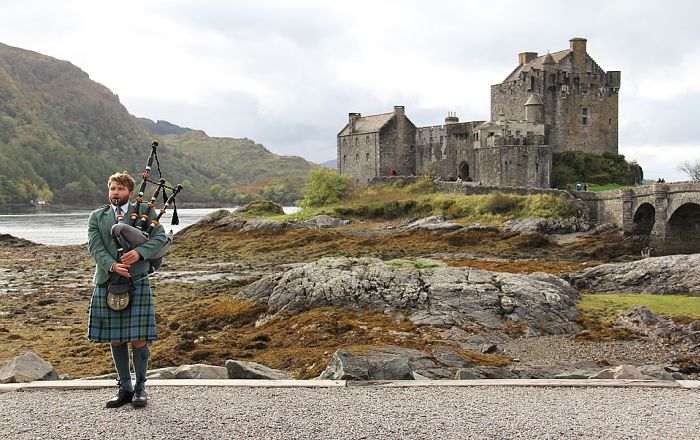 CURRENCY: Our monetary unit is the Great Britain Pound. At the time of writing, one pound is equal to approximately 1.3 US dollars. To give you an idea of how much you will need, have a look at the Currency Converter to see how far your money goes.
You can stretch your money a little further by taking advantage of the Money Savers and discount passes that are on offer for many of our attractions, rail, and bus travel.
---
GETTING AROUND SCOTLAND: All the Scotland travel information you need for getting around the country, with links to rail, bus and ferry travel, and everything you need to know about driving here. See the Travelling In Scotland page for more info.
---
SCOTTISH WEATHER: Your Scotland travel information would not be complete without a mention of the Weather. The good news is that we are not known for hurricanes, earthquakes or monsoons, so the Scottish weather is not too extreme.
On the downside, it can be changeable, with dry spells and rainfall, and you could even experience four seasons in one day. Sunglasses, T-shirt, an umbrella, and a large bag containing a hat, scarf, gloves, 3 fur coats, a snorkel and flippers should do the trick.
(Just kidding, it's not THAT bad). Have a look at the Four Day Weather Forecast, to check conditions for your destination and arrival date, so you know what to expect.
---
THE SCOTTISH MIDGE: A good follow-on from the weather this one. Midges are tiny flying insects, more often called "the Highland Midge", persistent little creatures, (like mosquitos, but not as bad) found in swarms mostly in the north and west of Scotland. They love damp conditions and you'll most likely get them at dusk and at dawn.
Now don't think I'm a chauvinist, but the ones who bite are the females, because they can only lay eggs after they've had a meal consisting of blood. THAT'S YOU!
The good news is that you can buy a repellent from the pharmacist. But don't be alarmed, the midges are not at all harmful, they're just really annoying.
---
OUR WATER: The water in Scotland is of a fairly good quality and is safe to drink, although the taste can vary throughout the regions. The quality of the water is measured by the Drinking Water Quality Regulator for Scotland, but most people now drink bottled water, which is reasonably cheap from the supermarket.
---
MAKING PHONE CALLS FROM SCOTLAND: To call home from the UK you have to use the international telephone code '00' followed by your country code and area code. If you're not sure what your code is, check it with Country Calling Codes before you leave home. When you are in the UK, if you need to find a number abroad, dial 152.
To use your mobile phone (cell phone) you should call your service provider BEFORE YOU LEAVE HOME, to make sure your phone is set up for roaming. They'll give you all the information you need on how to make calls, and call charges abroad.
---
EMERGENCY SERVICES: Hopefully you won't need them, but you should at least know how to contact them. A free 999 call will connect you to an operator who can alert the Police, Fire and Ambulance Services. Other services like the Coastguard, Lifeboats and Mountain Rescue can also be alerted. The most important thing is to stay calm, and don't panic. If you need to contact the Police for a non-emergency, dial 101.
---
MISCELLANEOUS: Our time zone is GMT. Our electrical plugs are 3 pin 240V 50Hz. Our population is around 5 million. Our weights and measures are metric.
---
Well, that's it, I do hope you found at least some of this helpful for planning your trip, and I wish you a safe journey. See Best Time to Visit Scotland to see when's best for you, and get to know more about the country by reading the Scottish Culture page.