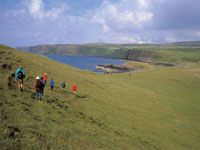 Scotland walking events and festivals are springing up everywhere to cater for the nation's growing obsession with keeping fit and living healthier lifestyles. With so many of these events, I thought it appropriate to provide you with listings of a select few of the most popular.
You can enjoy the best of walking in Scotland with coastal and woodland walks, and with routes to suit both experienced walkers and beginners.
Most of our festivals take place between April and November.
Scotland Walking Events and Festivals 2017….
APRIL 2017
9th – 14th
Walk Islay, Jura and Colonsay
28th – 30th
Galashiels Mini Walking Festival
MAY 2017
TBC
Newton Stewart Walking Festival
By arrangement
Glen Affric Walking Festival
20th – 26th
Ballater-Royal Deeside Walking Festival
JUNE 2017
10th June
Edinburgh Moonwalk
16th – 25th June
The Moray Walking Festival
BACK IN 2018
Martin Currie Rob Roy Challenge
JULY 2017
22nd – 23rd July
Glasgow to Edinburgh Trek
AUGUST 2017
TBC
Tomintoul & Glenlivet Walking Festival
SEPTEMBER 2017
TBC
Scottish Borders Walking Festival
15th – 17th
Blairgowrie & East Perthshire Walking Festival
OCTOBER 2017
7th – 16th
Cowal Walking and Arts Festival
TBC
The Torridon Walking Festival
You don't have to wait for Scotland walking events to come round. If you prefer doing your own thing, there are lots of fabulous woodland walks around the country.
One of the walks I have done, and which I highly recommend is Auchincruive, in Ayrshire, just off the Whitletts roundabout. This is actually a series of four walks:
The Waggonway Trail (3 miles)
Oswald's Trail (2.75 miles)
Three Green Knights Trail (1.5 miles)
The Farm Trail (2.5 miles)
You can do each walk separately or combine all four together for one longer walk of almost 10 miles. Each of the walks are colour coded and clearly marked, and they all start and finish very conveniently, at the main car park. It's a fantastic day out.
Another one not listed, but a great walk nonetheless, is the Greenock Cut. As you pass through Greenock heading for Inverkip, take the road for Loch Thom until you arrive at the Cornalees Bridge Centre. Your seven mile walk starts and ends here, and you'll enjoy some fantastic views across the water to the Island of Bute.
But the longest, and without doubt the most popular and challenging walk in Scotland is the West Highland Way, from Milngavie to Fort William, a distance of 95 miles.
Mobility Difficulties …..
** More walking information and listings on access opportunities for anyone with MOBILITY DIFFICULTIES can be found on the Walking Scotland website.
More Event Listings :
Scottish Highland Games Calendar
Outdoor Activities :
Hiking in Scotland
Choose from a great range of Walking and Hiking Packages.
Fishing in Scotland
The best in Fishing Packages, Bait & Tackle and Outdoor Wear.
Golfing in Scotland
Links to pristine Golf Courses.
Kayaking in Scotland
Kayaking, Canoeing & White Water Rafting. Open sea or lochs.
Bicycle Tours in Scotland
Island hopping or touring the beautiful countryside.
Skiing In Scotland
A good challenge for winter sport enthusiasts.