Our Scottish Castles have a long and colourful history. There are many to be found throughout the country, and some of them are said to be holding sinister secrets.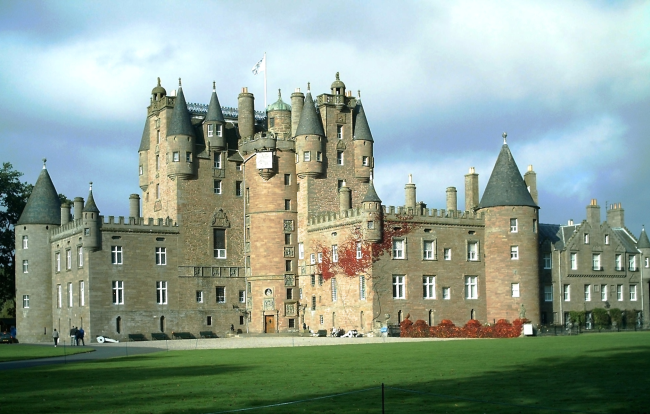 There are around 3,000 castles in Scotland.
They come in every size and stature, from simple farmhouses to royal residences, each with a story. Some are ruins, others are used for accommodation and some even cater for wedding receptions.
With the struggles, history and pride that surround these castles, you're guaranteed to find something interesting to see and experience. Our castles are steeped in culture and heritage, and with the breathtaking scenery that surrounds them, no visit would be complete without seeing at least one of them.
Almost every castle deserves a mention, but time and space does not afford that luxury, so here I give an overview of some of my personal favourites, and the most renowned. Many of our historic castles provide tours and accommodation.
Famous Scottish Castles
I've featured some of the castles I've visited, and probably the most famous.
Edinburgh Castle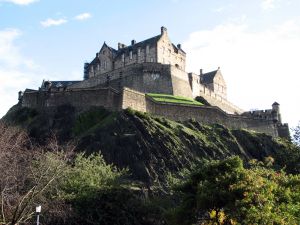 The #1 (paid) visitor attraction in Scotland, and setting for the famous Edinburgh Military Tattoo, dominates the city skyline.
My first visit was as a schoolboy, and it was on a school trip. The One-O-Clock Gun seemed so big, and I remember the teacher telling us the fascinating story of Greyfriars Bobby.
Built high on the remains of an extinct volcano, the castle offers most impressive views of the city and the landscape beyond. Read More About Edinburgh Castle
---
Stirling Castle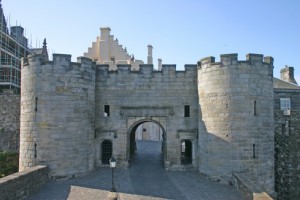 Stirling Castle is probably the most important castle in Scotland in historical terms due to it's strategic position. Home to Mary Queen of Scots, the castle was seen as the gateway to The Highlands. And for that reason, it was believed that whoever held the castle, held the key to ruling Scotland.
So it comes as no surprise that it was besieged and changed hands many times during it's long and bloody history. More recently Stirling Castle found fame following the movie, Braveheart. Read More About Stirling Castle
---
Eilean Donan Castle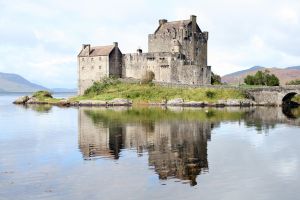 She lies on the main tourist route to the Isle of Skye, one of the icons of Scotland and possibly the most photographed of all Scottish castles. Eilean Donan Castle is also featured on my Castle Weddings page.
It's situated near Dornie, about 8 miles from Kyle of Lochalsh, on the west coast near the Isle of Skye. This castle featured in the movie "Highlander" when the MacLeods were seen to march out to their first battle. Read More About Eilean Donan Castle
---
Urquhart Castle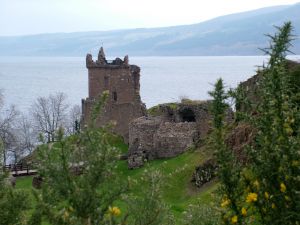 Set in spectacular scenery on the banks of Loch Ness, this is one of the largest Castles in Scotland, providing magnificent views over the loch, and the majestic Great Glen.
This is another one with a long and bloody history, dating as far back as the 13th century. There's no doubt that Urquhart Castle is one of the best sites available from the Historic Scotland owned properties and it's definitely worth a visit, for both the history and the scenic views. Read More About Urquhart Castle
---
Dunnottar Castle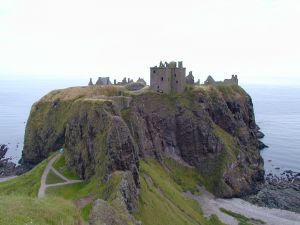 Dunnottar is located less than two miles south of Stonehaven, on the north-east coast of Scotland. Dunnottar Castle was the home of the Earls Marischal of Scotland, once one of the most powerful families in the land.
It is a ruined medieval fortress built on a precipitous rocky headland, in one of the most spectacular locations. Dunnottar made it to the history books for many reasons, but mainly as a small garrison that held out against Cromwell's army for eight months. Read More About Dunnottar Castle
---
Culzean Castle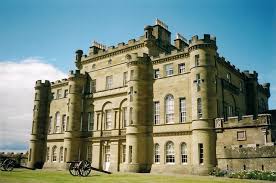 The beautiful Culzean Castle (pronounced kuh-lane) and Country Park, is located near Maybole in Ayrshire, just off the A719.
The former home of the Marquess of Ailsa, the castle is now owned by the National Trust.
One of our most popular Castles, the 563 acres host events during the year, including music festivals and country dancing. President Eisenhower lived here on four occasions, once as president, and the surrounding grounds are a paradise for garden lovers. Read More About Culzean Castle
---
Glamis Castle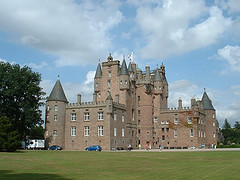 Many of our Castles are shrouded in mystery, and behind the majestic appearance of Glamis Castle, there lies some strange and dark secrets.
When you enter the chapel, castle tour guides tell you that there is one seat in the chapel that is always reserved for the "Grey Lady" and on one occasion more than 100 people in the castle swear that they saw her glide past them. Another ghost, "The White Lady" affectionately known as the Lady of Glamis, is believed to be Lady Campbell who has haunted Glamis Castle for hundreds of years. Read More About Glamis Castle
---
Obviously there are many more castles in Scotland, and probably many more that deserve a mention here. These are the ones I've been fortunate enough to visit.
Castle Hotels
A stay in one of our Scottish Castle Hotels is the ultimate when it comes to treating yourself to something a little bit special.
Castle Ghosts
No website about Scotland would be complete without a mention of Scottish castle ghosts, and there are many, from grey ladies to misty shapes and mysterious pipers.
Castle Weddings
Imagine the many banquets, stately dinners and balls that have taken place in the great halls of these Scottish Castles.
---

See the Scotland Travel Information page for all the information you need for travelling to and within Scotland. Helpful advice on passports and visas, currency, weather, holiday extras, useful travel links and more.

---