Blair Drummond Wildlife Safari Park is another of my favourite Scottish attractions.
It's very reasonably priced, and it really is a fantastic day out for all the family.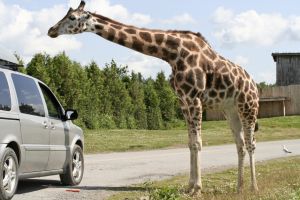 Blair Drummond Park is situated less than an hour's drive from both Glasgow and the city of Edinburgh. If you take junction 10 off the M9 motorway, it's well signposted from there, and Stirling is the nearest train station.
If you enjoy animals and wide open spaces as much as I do, you'll love this place. Seriously, all you need is some half decent weather, to let you take full advantage of the walks and the many other facilities you'll find around the park. The children will love it.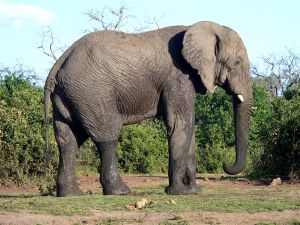 You start off by driving through the animal reserves, then once you have parked you can take a walk through pets farm, then a visit to the adventure areas, take in the falconry and sea lion displays, and visit chimp island.
Some of the other animals you can look forward to meeting include : Antelopes, Lions, Tigers, Penguins, Birds of Prey, Bears, Camels, Giraffes, Meerkats, Zebras, Rhinos, Otters, Ostriches, Lemurs, Wallabys, and probably the only Elephants you're ever likely to see in the whole of Scotland.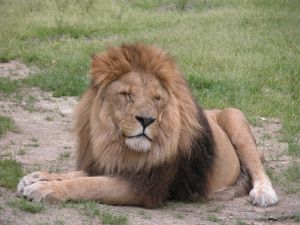 This isn't the whole list, these are just the ones I remember, there are lots more you're likely to see. When you do finally stop for a rest, there are bar and restaurant facilities, a barbeque area, and lots of picnic areas where you can just sit back and relax.
The children won't get bored, that's for sure, when you consider the number of attractions that make up the whole adventure that is Blair Drummond Wildlife Safari Park.
A wooden castle, bouncy castle, giant astraglide, pirate ship, face painting, pedal boats and amusements are just some of the things to keep the little ones happy. But perhaps the highlight of the day for everyone is a visit to the fantastic Chimp Island.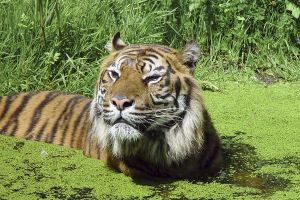 This wildlife safari park has been going strong since 1970, and it's a shame to think some of these animals are an endangered species. The Chimps and Tigers are endangered, and there are many other animals that are totally dependent on conservation areas like Blair Drummond Safari Park for their survival.
All the animals are well cared for here, as the dedicated staff do a fabulous job, and it's really nice to think when you pay your admission fee that some of it is going to a very worthwhile cause, especially when you will have such a great time.
Check Opening Times and Admission Prices
---

See the Scotland Travel Information page for all the information you need for travelling to and within Scotland. Advice on passports and visas, currency, weather, holiday extras, useful travel links and much more.

---
More Scottish Attractions :
Kelvingrove Art Gallery
Kelvingrove Art Gallery and Museum, with one of Europe's great civic art collections is Scotland's number 1 visitor attraction, and well loved.
Glasgow Science Centre
This science and technology museum was awarded a five star rating in the attraction category by the Scottish Tourist Board, Visit Scotland.
Edinburgh Zoo
The zoo is a great family day out, with many animals to see and and much to do, with the highlight being the daily penguin parade.