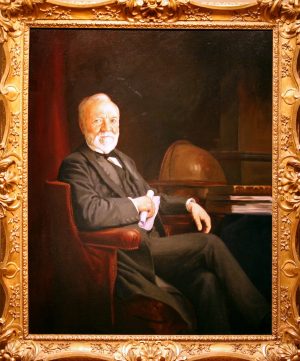 He was born on 25th November 1835 in Dunfermline, Scotland, and Andrew Carnegie was to become one of the most successful industrialists in American history, and one of the most remarkable "rags to riches" stories.
Carnegie's father was a handloom weaver and Andrew became a bobbin boy in a cotton mill. Shortly after, the family moved to Pittsburgh USA in 1848, when he was just 13 years old.
At the age of 14 he became a messenger boy in the local Pittsburgh Telegraph Office.
He had a strong belief that anyone who worked hard deserved to, and could become successful, and by the 1870s, he had founded the Carnegie Steel Company. Carnegie was convinced that the future of industry lay in steel, and by 1899 he controlled 25 percent of the total iron and steel production in the United States of America.
He married Louise Whitfield in 1887 and his only daughter, Margaret Carnegie Miller, was born in 1897. The following year he bought the Skibo Castle Estate, near Dornoch in Scotland, as a summer retreat for the family. Carnegie was already the worlds richest man, and he built a mansion with the old castle included in the structure.
"Heaven on Earth" was how he described it.
Skibo Castle is now home to the famous Carnegie Club, which is arguably the most prestigious of all golf clubs in the United Kingdom. It was the choice of Madonna and Guy Ritchie for their wedding ceremony.
Andrew Carnegie believed that the rich should use their wealth to enrich society, and stated publicly that "the rich have a moral obligation to give away their fortunes". This belief was stated in his book, "The Gospel of Wealth" which he wrote in 1914.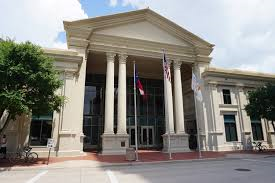 He did not mean charity, his idea was to use his wealth to give other people the opportunity to help themselves. Carnegie did this by providing funds to help build libraries, the first one in his home town of Dunfermline in 1882.
In total he funded more than 2,500 libraries in the UK, the US and Canada. Most of his buildings had steep stairs leading to the entrance, like the one in Fort Worth, pictured above.
The stairs were to create a feeling of 'elevating yourself' as you entered the building.
He also funded the Carnegie Institute of Pittsburgh, the Carnegie Institution of Washington for research into the natural and physical sciences, and the Carnegie Institute of Technology. Carnegie died in August 1919, and by that time he had given away $350,000,000. His direct descendants still live in Scotland today.
Andrew Carnegie is fondly remembered as the generous little man who made a fortune and gave most of it away. He was only 5ft 1in tall, but what a big heart he had.
READ MORE SCOTTISH HISTORY….
---