Largs has a good selection of places to eat, and most are quite close together between The Promenade and Main Street, so finding places for eating in Largs is convenient.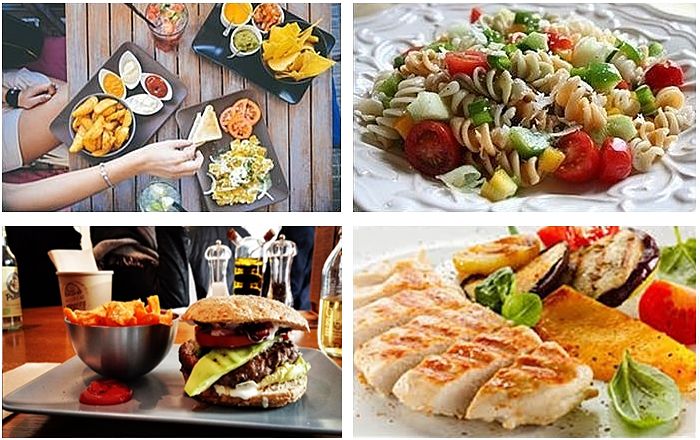 In all the times I have visited the town, I have never found it necessary to stray far from The Promenade in search of food. Of course it depends what it is you're looking for, but I'm usually just looking for something quick, with reasonably priced food. I've listed here some of the places that I have personally eaten in.
PLACES FOR EATING IN LARGS: RESTAURANTS

The Bagel Basket
25 Main Street
Largs
KA30 8AE
Tel : 01475 675862

A good selection for a lunch or tea time meal. It's very reasonably priced and the service is quick. I've enjoyed many a fish tea here, and there is outside seating where you can relax with a coffee on a nice day.

Update : September 2016. Congratulations to Stewart & Mrs Currie, who took ownership in 2014. Two years in a row they have won the best cafe/bistro in West of Scotland, and best cafe/bistro in Scotland award.

---
Room Bar And Restaurant
(Formerly Townhouse Bistro)
48-52 Gallowgate Square
Largs
KA30 8LX
Tel : 01475 675767

Just across the road from The Promenade, and fairly good for a quick bite. A good menu, good service, and on my last visit here I liked the chilli.

---
The Bean & Leaf
The Promenade
Largs
KA30 8BG.
Tel : 01475 670066

Maybe slightly overpriced this one, but not bad. You can have a full meal or just go in for a coffee or tea, which is good. Right on the front.

Update : Went back in June 2015, and was really disappointed. Service was okay, food was tasteless, maybe that's why it was empty at 5.10pm.

---
The Green Shutter Tearoom & Bistro
The Esplanade
Largs
KA30 8BL
01475 672252

Great views across the Clyde from this one, and seating outside, so it does tend to be quite busy. Good food, (I recommend the apple pie) and does nice coffee to take away, which is ideal on a nice sunny day.

Update : Been back a few times, still good.

---
Brisbane House Hotel
14 Greenock Road
Largs
KA30 8NF
01475 687200

The restaurant was being rennovated when I ate here, so I can't comment on the surroundings, but I did have the most wonderful view of the Firth of Clyde through the picture window. They do a reasonably priced two course dinner, with a good menu, and the food was very good. I'll go back when the rennovation is complete.

Update : I've been back and the place is very nice. Service was a bit slow but the food is still good. I must mention the toilets … they're first class.

---
PLACES FOR EATING IN LARGS: BAR MEALS

McCabes (Drouthy Neebors)
80 Main Street
Largs
KA30 8AL
01475 676089

You get a good pub lunch here, and great service. Not too impressive looking as you enter, but there is a good room at the back, and there's also a beer garden. I've had a couple of meals here and they were good.

---
The George
Main Street
Largs
01475 689778

Just beside the Bagel basket, and a nice pub to eat in. Good menu, good food and friendly service in spacious surroundings.

---
This is (or was) my favourite eating places in Largs.
There are many restaurants in Largs, plus three chip shops, and they are all within a stones throw of each other. On a nice day I think you can't beat a seat down by the water with a fish supper and a can of Irn Bru, followed by an ice cream and a coffee.