Inflatable kayaks, canoes and rafts will not give you the same performance as plastic kayaks, canoes or rafts, but they are quite stable, and are relatively easy to paddle.
They will provide great pleasure and fun for the family, and save you some money.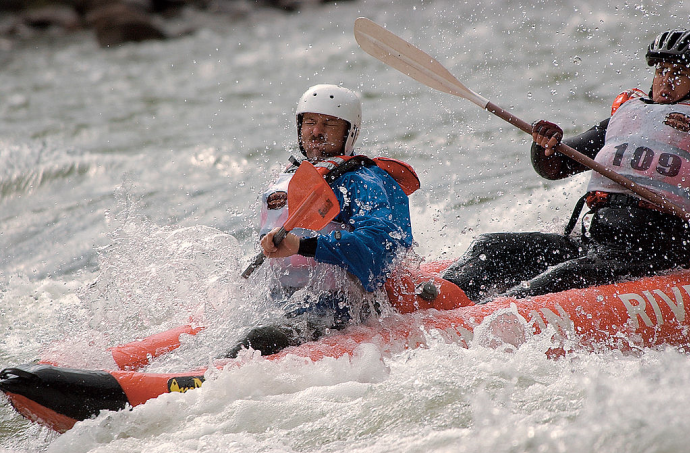 They're more durable than you may imagine, and you'll find inflatables very affordable in comparison to the hard shell kayaks. They are usually made from heavy-duty PVC or a synthetic rubber called Hypalon. Inflatables come in a wide range of colours, designs, shapes and sizes, and they are perfect for camping, vacationing and exploring.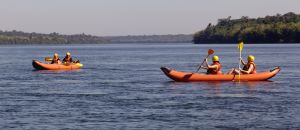 For beginners they are an easier and safer option than hard-shell kayaks, and they still provide paddlers with similar freedom of movement on the water. Unlike hard shell kayaks, which tend to get pinned, inflatables will "skif" over obstacles. In my opinion, if you're on a budget and need versatility, then inflatable kayaks are an excellent choice.
Convenience wise, these inflatables are hard to beat. They can be folded to a fraction of their size, are easily packed if travelling, and are very easy to carry to the water.
While they may not need as much maintenance as hard shells, they still need caring, and properly cared for they will make very good fishing boats, excellent river running boats, and are fun to float in Scotland's lochs. And the best news is, you don't have to break the bank to own your own boat, Sea eagle offer competitively priced inflatable boats and kayaks for touring, whitewater rafting and ocean kayaking.
So go ahead, for an inflatable at a bargain price, visit Sea Eagle Inflatables now.
MORE OUTDOOR ACTIVITIES
---

See the Scotland Travel Information page for all the information you need for travelling to and within Scotland. Get some helpful advice on passports and visas, currency, weather, holiday extras, useful travel links and more.

---