Kelvingrove Art Gallery and Museum, with one of Europe's great civic art collections is Scotland's number one free visitor attraction, and it's definitely worth seeing.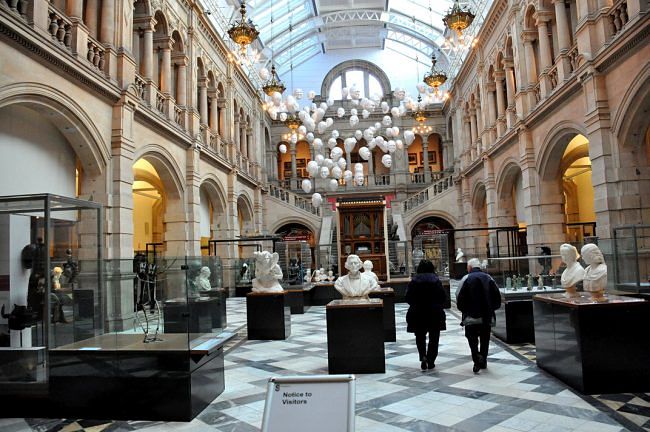 With FREE entry and over 8,000 fascinating objects on display, a visit to Glasgow wouldn't be complete without making a point of seeing this superb art gallery and museum. Kelvingrove reopened in 2006 following a £28M restoration project.
It's a great day out, and before you enter the museum, you can take a leisurely walk in the surroundings of Kelvingrove Park, 85 acres of beautiful, picturesque grounds.
The magnificent Victorian red sandstone building is one of our famous landmarks.
Proudly holding the reputation of being the city of Glasgow's most loved building, it has become a major attraction not only with Scottish residents, but with tourists from all over the world, making it the most visited museum in the United Kingdom, outside of London. It's certainly worth visiting.
This impressive building is the main museum in the city, housing a vast collection of paintings and sculptures, Scottish arms and armour, medieval swords, crossbows, duelling weapons, silver, ceramics, clothing, furniture, and much more besides.
If you view the the full collection, you'll see everything from decorative arts to the natural world and archaeology, from 300-million-year-old fossils to marine life, and a natural history department. One of Glasgow's most famous sons, Charles Rennie MacKintosh, is also represented here, and you can see a major collection of his work which is on permanent display.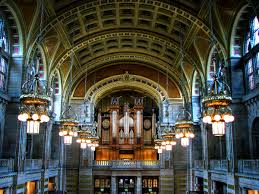 The fantastic art collection includes masterpieces by famous artists; Rembrandt, Van Gogh, Monet, Turner and Whistler. Another famous painting, Salvador Dali's "Christ of St John of the Cross" is also on display in the St Mungo Museum of Religious Life, beside Glasgow Cathedral.
On the first floor there are new education focused facilities, including the History Discovery Centre, the Study Centre, and the Multimedia Object Cinema. The exhibition halls concentrate mainly on Natural History, Zoology, Archaeology, History and Fine Arts. If you have time to explore, you'll find a selection of shops in the Kelvingrove area selling products inspired by the collections.
Kelvingrove has a range of facilities you'd expect from a world class museum, and is the highlight of any trip to Glasgow. The Gallery is available to hire for corporate and private events, there is wheelchair access and a lift to the main galleries and disabled toilets, and some of the staff have been trained in basic British Sign Language.
PLEASE NOTE: Photography and filming for personal use is allowed, but you have to get a permission form. Flash photography and tripods are not permitted.
Kelvingrove Art Gallery and Museum has earned the reputation of being Scotland's most popular free visitor attraction, which is fully justified, as a fabulous day out for the whole family is guaranteed. Check Opening Times For All Glasgow Museums
---

See the Scotland Travel Information page for all the information you need for travelling to and within Scotland. Get helpful advice on passports and visas, currency, weather, holiday extras, useful travel links and much more.

---
MORE SCOTTISH ATTRACTIONS….
---
Glasgow Science Centre: This science and technology museum was awarded a five star rating in the attraction category by the Scottish Tourist Board, Visit Scotland.
Blair Drummond Wildlife Safari Park: The children definitely won't get bored, when you consider the number of attractions that make up this whole wildlife adventure.