If you're serious about improving your game, master the driver. Not only is it one of the key scoring clubs in your bag, it's also the club you probably use most often to start a hole and the club that drives the ball the farthest. If distance is in demand on a hole, the driver is the club of choice from the tee. So learning how to hit it is critical to lowering your golf handicap.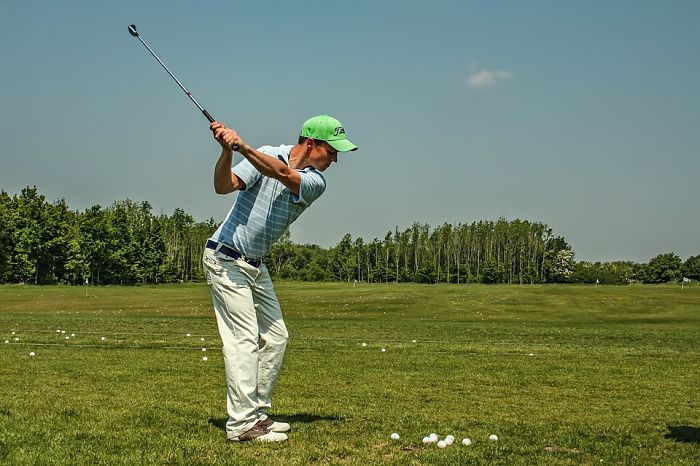 But so is making better decisions off the tee. Golf is like chess. The better the decisions you make off the tee, the better results you get later on. Making poor decisions off the tee, on the other hand, often lands you in trouble, and/or forces you to hit difficult follow up shots you're not proficient at. To cut strokes from your golf handicap, you must make good decisions off the tee.
Select a Realistic Target
If you've read my golf tips and articles, you know I advocate using a pre-shot routine for every shot. Pre-shot routines provide numerous benefits. A key component of every routine is target selection. Unfortunately, weekend golfers often fail to choose a target when they tee off. Instead, they just whale away. Or, if they pick out a target, it's one that's unrealistic. They need their best drive to hit it. That type of thinking spells trouble.
Instead, select a realistic target. It's just as important playing target golf on the tee as it is playing it in the fairway—and more productive. Treat a tee shot the same as an approach shot. If that means backing off on the driver and using a 5-wood, so be it. Stay within yourself and don't try over doing it. My advice to players taking golf lessons: When on the tee, choose a club that's right for the hole, pick out a target that's realistic, imagine an appropriate ball flight, then go for it.
Avoid The Line Of Charm
Course architects use a hole's design to challenge golfers and create interest. Sometimes, for example, they'll place a trap at point where most golfers hit their drives, in line with the best path to the green. That leaves you with a choice. You can either layup before the trap and be well short of where you want to be, or you can go for it and be in a great spot for an easy approach shot. These "challenges" are what make the hole—and golf—interesting.
But these challenges are also psychological ploys. They can entice you into making mistakes that add strokes to your score. Among the most basic is the "line of charm," a term coined by Max Behr, who designed golf courses in the 1920s.
The line of charm tantalizes. It attracts your eye but is fraught with danger and disaster. It entices you away from the line of play the architect has outlined and almost always lies close to several hazards. It draws you in, but can undo you if you're not careful. When faced with this situation, look at the risk/reward equation, as I tell players in my golf instruction sessions. If the reward isn't there, don't take the risk.
Hit Away From Trouble
Too often golfers hit into trouble when on the tee. For example, a right-handed golfer who hooks the ball to the left lines up way to the right of the tee box, aiming directly at a clump of trees on the right. His reasoning: His hook will take him to the fairway and out of trouble. But as so often happens, the hook doesn't materialize and he ends up in the very hazard he was trying to miss. Avoid hitting into trouble when on the tee. That way if what you were planning for doesn't happen, you won't end up in trouble.
These tips illustrate the type of thinking you must do on the tee to score well, especially on challenging courses. Smart decision-making helps lower your golf handicap. If you're serious about playing your best, make better decisions off the tee. It pays off.
Jack Moorehouse is the author of the best-selling book "How To Break 80 And Shoot Like The Pros" He is NOT a golf pro, rather a working man that has helped thousands of golfers from all seven continents lower their handicap immediately. He has a free weekly newsletter with the latest golf tips, golf lessons and golf instruction.
See Also :