By: Núria Garcia Puertas, Barcelona, Catalonia, Spain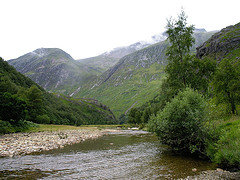 I truly believe that beauty is in the eye of the beholder. What I might have expected to be nothing more than an ordinary experience in a charming grey city turned out to be a blissfully happy holiday, one of those experiences whose essence you'd never want to forget.
One of my dearest friends suffered from cancer so it was just the right time to visit her again in Aberdeen. After seeing her strength of spirit and realising that, perhaps, she was more well-balanced than I, despite the fact I was healthier, I decided to let the inspiring environment create a sense of peace in me.
So I started to run along the route of the former Royal Deeside Railway and I rediscovered the uniqueness of Aberdeen. Little bits of magnificent beauty form the centenary railway route and shape its picturesque character.
Most of its secrets are hidden in the extraordinary tonalities of its flowers, the never-ending sounds of the River Dee and the sublime fresh breeze that comes from the Highlands. Like a cubist masterpiece, you need to open your eyes carefully to be able to admire all the fragments from each perspective: never be satisfied with what you see superficially; for sure there's something important behind it.
To The Almond
By Neil "Chappy" Chapman, Edinburgh, Scotland.
A wee poem I penned about the river almond that runs through the west lothian till it's end in the forth at cramond Edinburgh.
The wonderfull Almond.
To get some peace fae auld reekies pollution, I stumbled apon the perfect soloution.
A daunder up beat one, two or three, it's really quite amazing the wildlife you see.
The floure's of the forrest, tae the reek of the plants, that albino fox who made a mess of my pants.
We have some herons and wee bats too, and pretty kingfishers with their electric blue, look out for the otters when they're oot to play, cause thats when the broonies try and stay away.
Fae the wall pool stalkers to the keen dog walkers, or scaling those stairs that make ma legs sair, stop at peggies mill for a quick wee peek, is this where the fishes play hide and seek.
Up to the brig and time for some chat, a spannish lad casting annoying yon bat, final stroll towards grotto for me. Cannae see me making it up to beat three.
So another great day on our wonderful river and it's something I hope we can enjoy forever, so if walking yer dug or riding a bike, casting a flee or taking a hike, spinning a mepps or a flying C, the future is bright for us all to see.
I only have one thing furthermore, look after the almond we ALL ADORE!!!!
The Accordion Playing of John Rafferty
By Kevin McCulloch, Bega, NSW. Australia.
My mother Susan Rafferty (maiden name) was the daughter of John Rafferty. She played the button accordian as did her brothers and sisters of whom there were eight.
This was no doubt due to the fact that their father John from Lochgelly was notable for his brilliant accordian playing in the early 1900's.
The family story has it that he competed annually at a popular accordian championship in Scotland and usually won. His main competitor was Jimmy Shand Senior.
The story has it that each endeavoured to get the other one intoxicated before the start of the festival and John's success rested on whether he was clever enough to stay sober.