Pedal for Parkinson's around the historic city of Stirling in summer.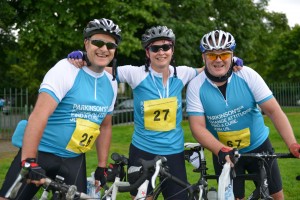 Have a great family day out and help support a good cause. This charity bike ride is called Pedal for Parkinson's, a great event for people to hear about who is visiting, or living in the area.
On Sunday 4 August, join us at King's Park to go on a 25 or 60 mile cycle challenge for Parkinson's UK. This cycle ride is the perfect way to have an active day out with friends and family, while supporting a worthwhile cause, Parkinson's UK. You'll benefit from fully signposted and marshalled routes, refreshments provided, and a jersey and medal for every cyclist!
Everyone with Parkinson's needs a specialist nurse.
Can you help with this event? Help us reach our goal, by raising at least £100 sponsor money to fund Parkinson's nurses in Scotland and the rest of the UK. Every pound you raise will be matched by The Monument Trust – so the funds you raise will go double the distance! Choose your route and get set to Pedal for Parkinson's by Registering Online
We are also looking for volunteers to help out at the event.
Volunteering is great fun and a wonderful way to enjoy the beautiful countryside while helping to support a worthwhile cause, Parkinson's UK. For more details, call the Parkinson's UK Events team on 020 7963 9305 or email events@parkinsons.org.uk
We're the Parkinson's support and research charity. Help us find a cure and improve life for everyone affected by Parkinson's. Parkinson's UK is the operating name of the Parkinson's Disease Society of the United Kingdom. A company limited by guarantee. Registered in England and Wales (948776). Registered office: 215 Vauxhall Bridge Road, Victoria, London, SW1V 1EJ. A charity registered in England and Wales (258197) and in Scotland (SC037554).