The Scottish Clans were originally families, who were usually related through the same line of descent, and were duty bound to pledge allegiance to the Clan chief.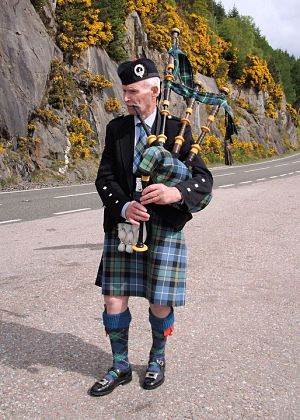 The word 'Clan' comes from the Gaelic word 'Clann' meaning children of the family.
However, families with different surnames were allowed to join an existing clan, maybe for protection from enemies, or financial gain.
These families owed allegiance to the Clan Chief, they held no authority, and the chief had the power to outlaw anyone, even family.
Originally, the Clans were old Celtic tribes of Scotland and Ireland. It's thought that names spelled Mc were of Irish descent, and Mac was Scottish, but it was down to individual choice.
The 12th and 13th centuries saw a lot of turmoil, with the Norse, Scottish and English warlords competing to dominate, and during the Wars of Scottish Independence, more Clans emerged and new names appeared, like Menzies and Cameron.
Successive governments looked upon the Scottish Clans as outlaws, and occasionally would mount military operations either to enforce taxes, or just keep them in check. James Edward rallied the Scottish Clans in 1715 and was proclaimed King of Scotland, but the uprising was defeated mostly due to divisions between the Scottish Clans.
Divisions between Clans was nothing new in Scotland's turbulent history, the most famous of which is probably that involving the MacDonalds and Campbells, and the Glencoe Massacre in 1692. Disputes within a Clan were usually settled arbitrarily with the leading gentry, and the Clan Chief would preside over the proceedings.
There was no official association between Scottish Clans and tartans until the 18th century, but Clan associations and tartans began to emerge worldwide, as many Scots emigrated and settled all over the world. There are now millions of people of Scottish descent living in Canada, America, Singapore and everywhere else for that matter.
Tartan Day is now a part of the American and Canadian calendars, in celebration of existing and historical links between Scotland and overseas Scottish descendants.
Although mainly associated with Scotland and other Celtic countries, tartans were originally made from a woven cloth, but many other materials are now used in tartan making. Every clan with a society has at least one distinct tartan, with unique colours and shades, and authorised by the society for use by members.
Nowadays tartan is not unique to Clans. You can find tartans that are registered for families, districts, military forces like the Royal Air Force & Royal Canadian Air Force, and even Amnesty International. Although the naming and registration of official clan tartans began in 1815, and are now authorised by the chief and registered by the Lord Lyon, there's no legal infringement against non-clan members wearing tartan.
Most people can find a tartan that is significant for them, regardless of whether or not they have Scottish ancestry. Try This Tartan Finder facility to trace your family tartan
READ MORE SCOTTISH HISTORY….
---