Here is some helpful information you need for travelling in Scotland, with links to airports, rail, bus and ferry services, plus guidelines for driving in Scotland.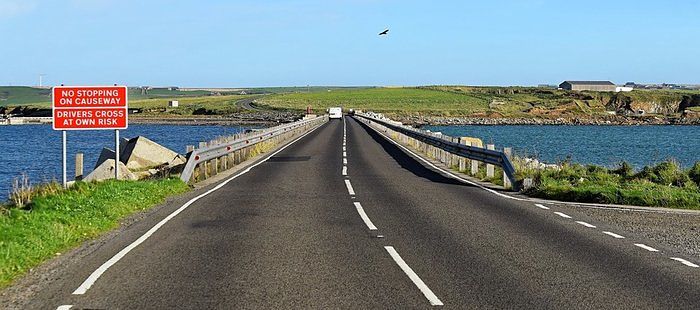 With an area spanning a little over 30,000 square miles, travel is fairly straightforward.
That's good news, as you'll be able to see much of the country, even on a short visit. There are lots of organised coach tours available and these are a good way to guarantee you won't miss anything worth seeing, however many people prefer doing their own thing, so hopefully this information will be helpful.
Outdoor types may prefer to do their own thing with a self guided tour, and I suggest walking and cycling as the best way to explore the mountains, lochs and countryside.
TRAVELLING IN SCOTLAND
Scotland consists of three main regions : The Highlands, The Central Lowlands, and The Southern Uplands. The busiest of these is the Central Lowlands, or the central belt, which is home to about two thirds of the population, and includes Glasgow in the west and Edinburgh in the east. OK, enough of the geography (I never was very good at it, so you may get lost) let's talk about modes of transport for travelling in Scotland.
TRAVEL BY PLANE….
You would probably only fly if you were here on business, or going to the Orkney or Shetland Islands, or any of the other islands that are not easy to get to by other means. There are five major airports, Glasgow, Edinburgh, Aberdeen, Inverness and Prestwick. You can find information for all Scottish airports on the Scotland Worldweb site.
You may also want to have a look at the British Airways timetable where you will find all the domestic flight information you will need, including all UK shuttle services.
TRAVEL BY TRAIN….
You won't be surprised to hear that Scotland's rail network is busier in the central belt, not so busy in the Highlands, and almost non-existent on many of the Islands.
First Scotrail cover most of the routes, and tickets can be bought at rail stations, travel agents, online and on the phone. It is possible to buy tickets on board the train, but you would probably not be able to get any discounted passes that may be on offer.
A couple of good discount passes worth looking at are the Freedom of Scotland Travelpass, and the Highland Rover. The Freedom of Scotland offers good value with unlimited train travel, it includes Calmac ferry services, and some remote bus routes. The Highland Rover gives you unlimited train travel in the Highland region, the West Highland Line, train travel between Aviemore and Aberdeen plus a few bus routes.
TRAVEL BY BUS….
Like the rail network but simpler – and cheaper. You can even admire the beautiful countryside through the coach window without your eyes spinning in your head.
Our long distance buses are called coaches, and there are services between all our major towns and cities. You can guarantee a seat by buying a reserved journey ticket with Scottish Citylink who operate most of the services, which are quite frequent and good value. There are some very good discount fares on offer so it would be worth looking at the Scottish Citylink website for all the fares, routes and timetables.
If you're travelling in rural areas, especially the Highlands, the only service available is the Royal Mail Postbus, which collects the mail and YOU, so it can be quite slow. (Car hire is a better option here). Check the Postbus Website for routes and timetables.
Guided tours are an excellent way of experiencing the best of Scottish culture by exploring our castles, lochs and whisky distilleries. Scotland Tours are available for Edinburgh, Glasgow, Inverness, Isle of Skye, Stirling, and Loch Lomond.
DRIVING IN SCOTLAND….
The first thing you need to know is that non-UK citizens need to have an international driving permit, as well as your national driving licence. These permits are available from your national motoring organisations, and there is a small charge for them.
If bringing your car, you will need adequate insurance and ownership documents.
We drive on the left side of the road, and our speed limits are 70 mph on motorways and dual carriageways, 30 mph in built up areas, and 60 mph in other areas.
Roundabouts are common on our roads, and I know priority rules for roundabouts can differ greatly from country to country. In Scotland, priority is given to traffic already ON the roundabout, and you go to the left on entering. Wearing a seat belt is compulsory for ALL passengers, and it's illegal to use a mobile phone while driving.
I'm glad all that's out of the way, because it's a pleasure driving around Scotland.
The only real traffic congestion you will come across will be between our major towns and cities during rush hour. Good news: There are no longer any toll bridges here.
Driving around Scotland will allow you the freedom and time to enjoy the beautiful landscapes, and the magnificent scenic views around the mountains and lochs.
Less than one hour driving can take you from any city to glorious countryside, and one drive I definitely do recommend is to Loch Lomond, less than an hour from Glasgow. Just follow the A82, go round the loch (if you can resist stopping, which I doubt) and head north for the Highlands up through Glencoe. It's absolutely breathtaking!
Plan your journey in advance with the AA Route Planner
FERRY TRAVEL IN SCOTLAND….
With lots of islands, ferry travel is vital in Scotland. The biggest operator is Caledonian MacBrayne, or CalMac for short, who serve most of the islands off the west coast.
The Orkney and Shetland Islands are serviced by Northlink Ferries, from Aberdeen and Scrabster, while travel between the various Orkney Isles are served by Orkney Ferries. Oh, and they are all car ferries.
I hope you found this page helpful, and if you haven't already done so, you should read Travelling To Scotland for ways of getting here, and the Scotland Travel Information page for advice about passports, visas, etc. Well that's it, I hope you enjoy travelling in Scotland as much as I have. I'm sure you will, and please remember to drive safely.
---

Still looking for accommodation? Search a comprehensive database of towns and cities to Find A Hotel In Scotland at the lowest rates.

---