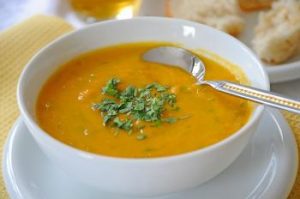 Here are some of your Scottish recipes.
My thanks to everyone who took the time to send these in. Scottish food is at its best when cooked with a little imagination.
The personal, unique touch of the individual has given us so much versatility, and it shows in these great recipes, perfected over the years, from tablet to haggis, and the wonderful soup your granny used to make.
Clootie Dumpling

Thanks to Jean McAllister from Dalbeattie, Scotland for this recipe.

INGREDIENTS

250g plain flour
250g mixed sultanas and currants
125g suet
1 cup of sugar
125g breadcrumbs
1 Packet of mixed spices
5 tablespoons of milk
1 tablespoon of golden syrup

METHOD

Mix all the dry ingredients together in a large bowl. Once blended together, stir in the syrup, and add the milk.

Your mixture should be slightly moist and firm.

The cloot (muslin is good) should have been put in boiling water (to clean), then placed in cold water to cool, and wrung out.

Sprinkle some flour over the cloot and add the mixture. Tie the cloot, but leave some room because the mixture will expand.

Place an upside down saucer in a deep pan (so the mixture doesn't stick to the pan) put in the cloot and add boiling water to almost the top of the mixture, but don't cover it.

Simmer for about 3 hours, remove from pan and untie the cloot. Your dumpling should have a skin around it. Dry off in the oven.
Haggis Neeps and Tatties

Thanks to Chris, Scotland.

INGREDIENTS

1x traditional Haggis (hand made from your local butcher if possible)
1x Swede
2x Turnips
1x Bunch of baby organic Carrots
3x Sprigs of fresh Rosemary finely chopped (Leaves only)
4x Medium size Piper Potatoes
Sea Salt
Freshly Ground Pepper
2x large knobs of butter
1x Egg yoke
6x Tablespoons of olive oil

METHOD

Wrap the Haggis in kitchen foil and bring a large pan of water to the boil. Place the Haggis in the water and simmer for about 40-45 minutes.

Mash Potato
Peel and quarter your potatoes and boil in salted water till tender. Drain off the water then add 1 large knob of butter, egg yoke and Rosemary, mash till creamy.

Swede (Orange)
Peel and cut up into cubes. Boil in salted water till tender. Drain then add 1 large knob of butter, and mash.

Carrots
Cut a piece of kitchen parchment and soak under a tap. Place the carrots in the centre and season with salt and pepper. Add a large knob of butter then bring the corners of the parchment together and twist to seal. In a steamer bring the base water to boil, then place the carrots in the top and cover with the lid. Should be ready in about 8-10 minutes.

Turnips (White)
Peal then finely cut the turnips into long thin strips (about 3mm thick) Heat the olive oil and fry till crisp. Serve on top of the Swede.

Other
You could replace the butter in the carrots with fresh orange juice if you wish. And maybe add freshly grated Parmesan cheese to the potato.
Highland Toffee

Thanks to Janice from Ayrshire, Scotland.

INGREDIENTS

1 lb (1/2 Kilo) sugar
1 lb (1/2 Kilo) butter
1 lb (1/2 Kilo) syrup
1x Large tin of condensed milk.

METHOD

Melt the butter and sugar slowly in a large thick bottomed pan.

Add the syrup and bring to the boil.

Add the condensed milk.

Bring back to the boil and continue to boil for 20 minutes.

Pour into 2x greased trays and leave to cool.

For Treacle Toffee, use brown sugar instead of white, and use treacle instead of syrup. The method is the same as above.
Mince and Tatties

Thanks to Linda McArdle from Inverness, Scotland.

INGREDIENTS

500 grams of lean steak mince (ground beef)
1 lb potatoes
1x large onion
2x beef stock cubes
Beef gravy granules
1x clove garlic
2x bay leaves
Chilli powder
Salt & black pepper

METHOD

Gently brown the mince in a large saucepan with nothing added. When browned, simmer for a further 5 minutes stirring frequently.

Add salt, black pepper (according to taste) 1/2 teaspoon of chilli powder, finely chopped onion, sliced garlic clove, and 2 bay leaves.

Mix 4 teaspoons gravy granules in 100 ml boiling water (about 1 mug) and add to mince with stock cubes. Continue simmering for 20 minutes.

Peel potatoes and cut in quarters, add salt and bring to boil in pan. When tender, drain off water. If you prefer mashed potatoes, add a large knob of butter, a splash of milk, and mash until creamy.

Serve your mince and potatoes with either peas or carrots, or both.
Potato And Leek Soup

Thanks to Susan Conolly from London, England.

INGREDIENTS

Large piece of Shin Beef
2-3 kilo old potatoes
Several large leeks
2oz butter
1 pint of milk
Salt & Pepper
Water
Bay Leaf

METHOD

Peel and boil the potatoes.

Simmer the shin beef until soft with seasoning and bay leaf.

Drain tatties and mash with butter.

Break up shin beef, add potatoes, milk, chopped up leeks and water.

Stir to soup-like consistency and reboil for twenty mins…yum!!

Serve with oatcakes and a sprinkle of parsley.
Scotch Broth 1

Thanks to Lynn Dodds from Ontario, Canada.

INGREDIENTS

2 lbs Lamb Shank
1X cup pearl barley
1X cup peas
2X tablebspoons Butter
1X large onion, coarsely chopped
1X turnip
6X carrots
Salt and freshly ground black pepper.

METHOD

Soak the barley and peas overnight.

Bring lamb to the boil in a large soup pot, half filled with water and simmer, covered, for 2 hours, until meat is tender.

Take the lamb from the pot and remove bones and fat, then chop the meat and return to the pot.

Half the turnip, grate one half and dice the other.

Grate four of the carrots, and dice the other two.

Add the peas, barley, carrots, turnip and onion to the pot, bring to the boil and simmer for 30 minutes.

Melt the butter and add to the pot, add more water as required and simmer for a further 30 minutes.

Season with salt and pepper to taste.

Scotch Broth 2

Thanks to Christine Hughes from East Kilbride, Scotland.

INGREDIENTS

3 lb. mutton
1/2 cup pearl barley
1X onion
1X turnip
2X carrots
2 tbsp. salt
1 tsp. pepper

METHOD

Put the mutton into soup pot 3/4 filled with water.

Finely dice the onion, turnip and carrots.

Add to pot along with the barley and seasoning.

Bring to the boil, and allow to simmer for 3 hours.

Remove the mutton, take off all the bones and fat. Dice the meat into small pieces, return to pot and simmer for a further 15 minutes.
Scotch Eggs

Thanks to Marie Fraser from Peterhead, Scotland.

INGREDIENTS

1 lb of good sausage meat
5x hard boiled eggs,
4 ozs of breadcrumbs
1x large egg (raw)
2 ozs of flour
1x tablespoon of water
Salt & black pepper

METHOD

Remove the shells from the hard boiled eggs, and dust the eggs in a little flour.

Add salt & pepper to the sausage meat, knead, cut into 5 equal portions, and place on a floured surface.

Mould a piece of the sausage meat around each of the 5 eggs, preferably rolling into a ball.

Beat the raw egg and water together and then coat around each of the eggs. Press the breadcrumbs on to the eggs.

Deep fry on a high heat for about 5 minutes until golden brown, remove from fryer and drain.

The eggs (4 or 5) can be served hot or refrigerated.
Scottish Shortbread

Thanks to John McIver from Edinburgh, Scotland.

INGREDIENTS

1 lb butter (unsalted)
1 cup white sugar
5 cups flour
1/2 teaspoon vanilla essence

METHOD

When butter's at room temperature, beat until soft.

Add sugar and beat until smooth.

Mix flour in gradually using your hands, and round to about 1/2 inch thick.

Press dough into a round cake tin (lined with wax paper) and jab gently all over with a fork.

Bake in oven at 300 degrees for 40-50 minutes until golden brown.

Remove from heat, let cool in pan and sprinkle with sugar.
Scottish Tablet 1

Thanks to Janice from Ayrshire, Scotland.

INGREDIENTS

2 lb (1 kilo) Castor Sugar
2oz Butter
Large Tin Carnation Milk
Syrup

METHOD

Put sugar, butter and milk in pan and bring to the boil slowly.

Add 1 tablespoon of syrup and continue to boil for 10 minutes, stirring constantly.

Remove from heat and beat for 4 – 5 minutes until thick.

Pour into greased tins and allow to cool.

Scottish Tablet 2

Thanks to Annie from Newmilns, Scotland.

Mrs boyle's traditional Scottish tablet

INGREDIENTS

2 lb (1 kilo) Sugar
4oz Butter
1 cup of milk
Large tin condensed milk
Dessert spoon golden syrup
Half teaspoon vanilla essence.

METHOD

Begin by greasing a baking tray with butter.

To make tablet: Melt the butter, add sugar and milk.

Bring to boil, add condensed milk and syrup.

Bring back to boil and and boil for EXACTLY 11 minutes while continuously stirring it.

Remove from heat and add vanilla essence (it may spit a little so stand back as it's hot hot hot).

Beat well until base of pot begins to feel gritty.

Pour into tin.

Happy tablet making! x
EDITOR'S NOTE:
My sincere thanks to everyone for sending these in. Unfortunately, the comment sections of this site have now been removed due to high levels of spam, with adverts that are not appropriate for a family friendly website.